Event Details
Monday, February 5, 2018
7 p.m.
Wait Chapel
This event, which was open to the public, has passed. Registration was required.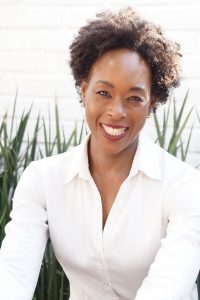 Writer, researcher, and entrepreneur Margot Lee Shetterly is the author of Hidden Figures: The American Dream and the Untold Story of the Black Women Mathematicians Who Helped Win the Space Race, which was a top book of 2016 for both TIME and Publisher's Weekly, a USA Today bestseller, and a #1 (instant) New York Times bestseller.
The film adaptation of her book—which became the number one movie in America—stars Taraji P. Henson, Octavia Spencer, Janelle Monae, Kirsten Dunst, and Kevin Costner. It was nominated for the Academy Award for Best Picture and Best Adapted Screenplay, and Octavia Spencer was nominated for Best Supporting Actress. To The New York Times, the film introduces viewers to "real people you might wish you had known more about earlier … [who] can fill you with outrage at the persistence of injustice and gratitude toward those who had the grit to stand up against it."
Shetterly is also the founder of the Human Computer Project, a digital archive of the stories of NASA's African-American "Human Computers" whose work tipped the balance in favor of the United States in WWII, the Cold War, and the Space Race. Shetterly's father was among the early generation of black NASA engineers and scientists, and she had direct access to NASA executives and the women featured in the book. She grew up around the historically black Hampton University, where some of the women in Hidden Figures studied. Along with Aran Shetterly, Shetterly co-founded the magazine Inside Mexico. She graduated from The University of Virginia, and is a 2014 Alfred P. Sloan Foundation Fellow.
---
Events
6:30 p.m., Thursday, February 1 – Viewing of "Hidden Figures"
Broyhill Auditorium
4 p.m., Monday, February 5 – Panel Discussion
Registration is now full for this event
Pugh Auditorium
7 pm., Monday, February 5 – Keynote
Wait Chapel
5 p.m., Thursday, February 8 – Follow-up Conversation to Margot Lee Shetterly's Visit
ZSR 476
---
Shetterly's appearance is part of Project Wake: Exploring Difference and Embracing Diversity. Wake Forest's summer orientation program for new students focuses on issues of social and intellectual importance, and Shetterly's "Hidden Figures" was a selection on the summer reading list for the Class of 2021.